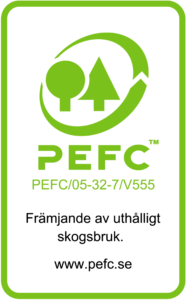 PEFC is the world's largest organization for certification of sustainable forestry. Certification of forestry and eco-labeling of forest products is the forest industry's way of telling consumers that they produce products of forest raw material that come from responsibly used forests. The PEFC marking on a wood-based product shows that it is made from raw material that comes from forests that are used according to defined requirements for consideration of natural and cultural environments, social values and forest management. PEFC stands for "Program for the Endorsement of Forest Certification" and the organization has members all over the world.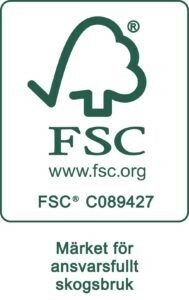 FSC forestry certification confirms that the forest is managed in a way that preserves biodiversity and benefits the lives of local people and workers, while ensuring that it maintains economic viability.
FSC - Forest Stewardship Council and is the older of the two dominant systems. FSC was formed in 1993 and came to Sweden in 1996. FSC is based on consensus on the standard in the three "chambers" called the Economy, Environment and Social Chamber. The chambers weigh equally in the decisions and have the same number of members.